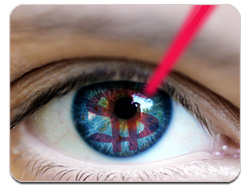 LASIK Eye Surgery Costs
By Hanna Nilson
LASIK eye surgery isn't the cheapest procedure; especially as an elective surgery, the costs may be something to take into serious account before going "under the knife".
You may notice ads which promote LASIK eye surgery costs of $500 or even $300. Well, the first thing you should know is that, unfortunately, such prices would only make sense if they were applied per eye. Even then, don't expect to walk away with a bargain deal. Katherine Wegert, from the WallStreetJournal, reports that LCA-Vision Inc (a major LASIK provider) "…will cut by one-third the number of machines that do laser-vision correction as the market sees slumping demand and the company aims to cut costs." She continues: "While most Lasik procedures are performed by doctor practices, LCA and its rival TLC Vision Corp. have been suffering as worries about job security and other economic issues prompt people to think twice about undergoing the LASIK procedure.
Secondly, even a reduced price range is most likely too good to be true. Yes, Laser eye surgery costs can be pretty high! In fact its prices seem to have been raised from an average of $1600 in 2002 to almost $2000 in 2005. Luckily, these costs have generally stabilized since then. The standard LASIK eye surgery cost is now about $2000 - $2500.
Remember, these are just average estimates. All prices are subject to change based on the type of surgery you might want or need. Also, even where you live might factor into a higher or cheaper eye surgery cost. For example, a custom-Lasik procedure will cost more on the West Coast. Also, more high-tech treatments such as those using Wavefront technology, will always cost more than a traditional LASIK treatment. Granted, these higher costs are applied with good reason; such as more accurate adjustments, precise corrections, shorter recovery time and less pain. However, for those with, say a less flexible budget; you may want to consider financing.
Financing is a practical and reasonable alternative to affording your LASIK eye surgery cost. LasikEyeSurgeryAnswers.com suggests that some companies offer benefits which allow their employees to set aside money to cover extras such as LASIK eye surgery expenses. "These programs have a number of different titles - Flex Plans, Cafeteria Plans or Alternative Health Plans. You can arrange for a payroll deduction and save an agreed sum of pretax dollars to pay the LASIK eye surgery cost." Since most insurance companies don't cover elective or "cosmetic" surgeries; this could be a great way to save some money on your LASIK surgery. In any case, if you chose LASIK eye surgery, be sure you can construct a manageable payment plan.
Consult you're preferred LASIK professionals or LASIK center representatives for comparable rates and estimates. It's also smart to let them know that you are comparing their rates and see if they might be willing to negotiate some pricing…You never know! Also, keep in mind that cheapest may not always be best. LASIK eye surgery is a serious procedure which can forever change your vision. In other words; if you do it, make extra sure you do it right! Unfortunately, in this economy of increased tension on supply vs. demand, this could mean spending a little extra money…so make it worth the splurge and do your research!